Picnic Rock Natural Area
2777 Poudre Canyon Road, Bellvue, CO 80512
Picnic Rock Natural Area (formerly Picnic Rock State Park up until 2001) is comprised of Upper and Lower Picnic Rock which are less than a mile apart, and located about 12 miles northwest of Fort Collins. However, Upper Picnic Rock is currently closed and is not being actively managed.
The upper Poudre River is protected by the National Wild and Scenic Rivers Act of 1986. This means that the natural flow of the river cannot be obstructed by dams, for development projects, like many Colorado rivers.
This is truly a scenic river canyon. Boaters and anglers should be cautious about entering the water during the spring months, as the high waters can be dangerous during spring run-off. Picnicing, fishing, rafting, and hiking are popular activities. The stretch of river from above Upper Picnic Rock ending at Lower Picnic Rock is the only stretch of beginning-level white water on the Cache la Poudre.
A new river-safety initiative, "Play it Safe on the Poudre," emphasizes this point through newly installed safety and educational signage along the river, public outreach and other means. Picnic Rock is the take-out location for the upper stretch of the Cache la Poudre River.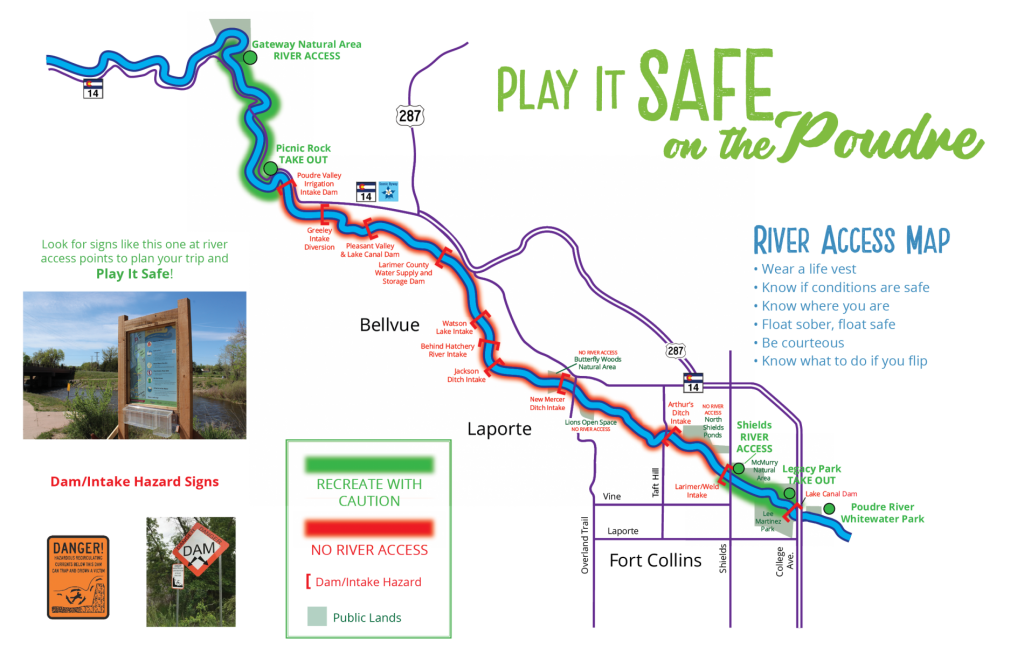 Download a River Access and Safety Map
Tourism Information
For more information about Picnic Rock, contact Fort Collins Natural Areas at naturalareas@fcgov.com or call 970.416.2815
Accessibility
Visitors Welcome
Wayside Sign
Yes.
Directions
From Fort Collins, head northwest on Hwy 287-North. Turn west onto Hwy 14/Poudre Canyon Road. Proceed approximately 2.8 miles to Picnic Rock. A Heritage Area wayside sign is located near the river.